On the 28th of September, we (FDB) had a workshop at the FDB Oslo office to discover the best ways to improve how to deliver our HydroCord product and kick-off our new discover and build process.
The main goals of the workshop were to improve collaboration making FDB a more scalable company and get feedback on the new discover and build process.
The workshop covered the different phases of the delivery of a HydroCord product, from initial specification and price offer to tested, documented, functioning, and completed installation. The workshop was facilitated by the discover and build process using a Lightning Decision Jam (LDJ) structure . This enabled us to combine the creativity in an open discussion on the topic and still be able to narrow it down to valuable prioritized insights that we will use to improve.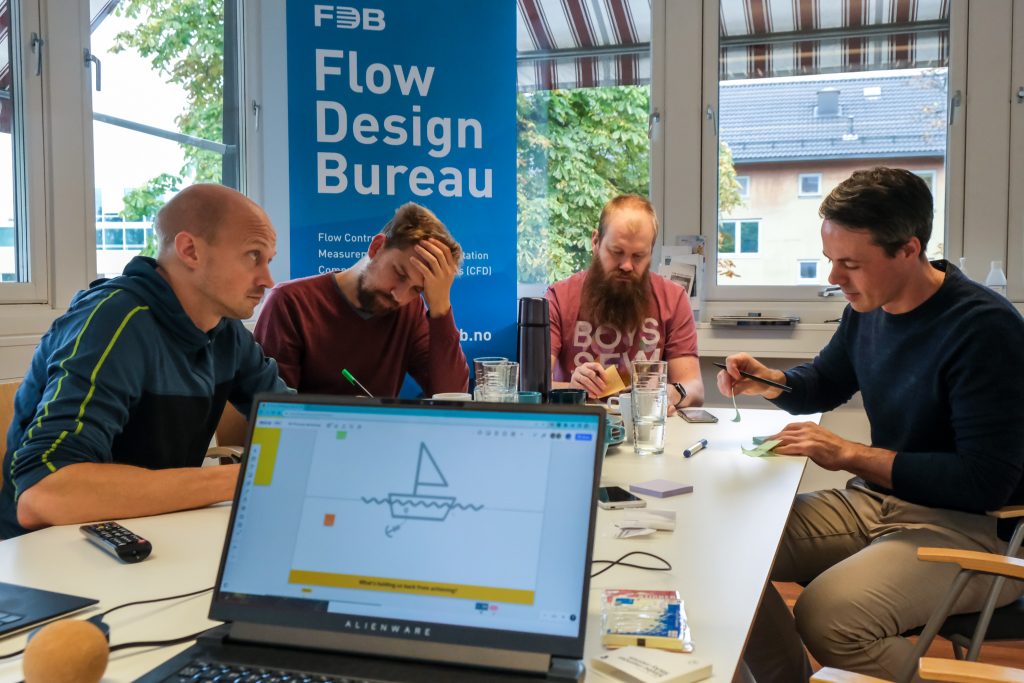 Img. 1: FDB workshop in Oslo, brainwriting activity (working together alone).
Img. 2: FDB team discussing what is pushing HydroCord forward and what is holding it back. 
Our current process for delivering HydroCord was examined in both positive and negative aspects, through brainstorming and discussion. The main problems discovered were reframed into challenges: "How might we…?" (HMW). These challenges were then evaluated in an effort vs value diagram, where the FDB team collaborated to find the best and most feasible solutions for improving delivery of the HydroCord product.
The result: a prioritized list of actions for improving the delivery of the HydroCord product forming a backlog of actionable tasks. We started the build-part on this backlog the following day and are already reaping the rewards of this work in our upcoming deliveries of HydroCord.  
Another important insight from the workshop was to get feedback on the discover and build process, in order to establish a first version of it.
FDB, indeed, aims at using a combination of Design Thinking and Agile methodologies, both internally and together with external clients, to build strong, user-centric products. 
Both strategies have similar philosophies: they rely on feedback on user experience (UX) and take an iterative approach to inspire ideas, avoid mistakes, and ultimately lead to better and more valuable products in shorter time.
Img. 3: FDB combines the Design Thinking and Agile Process to build strong, user-centric products.